Church Profile
Calvary Baptist Church has been a "lighthouse for the gospel" in the Knob Noster area since 1968. This broad area includes Whiteman Air Force Base, and the towns of Warrensburg, La Monte, Sedalia and Windsor, Missouri. Reaching these areas for Christ is a mission we take seriously.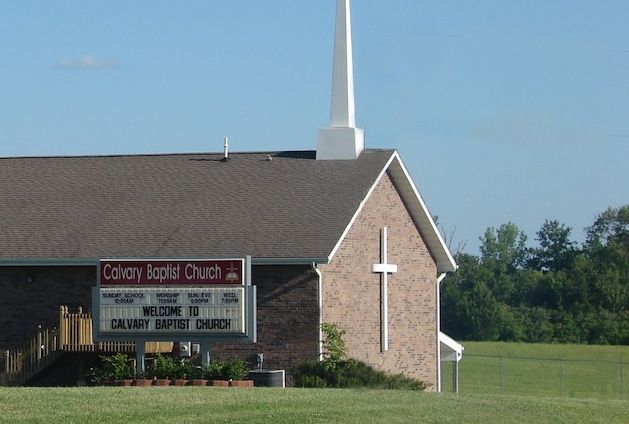 When you visit with us you will find:
A warm welcome the moment you step through the door
Exciting Adult Bible Classes
Relevant and straight forward preaching directly from the Word of God in every service
Sunday School classes for all ages
An active youth and teen ministry
A clean and capably staffed nursery for all services
Mid-week preaching service
Organized soul-winning programs
Master Clubs children's Bible program
Transportation to all services
Clean and comfortable facilities
Our Goals
Calvary Baptist Church is an independent ,fundamental Baptist church. We are committed to the goal of winning the lost to Christ, as well as growing and strengthening the saved through our many discipleship programs. We believe that our Lord is concerned about obedience as well as results. Therefore, the Bible is our sole guide in all our endeavors.
A Word from Our Pastor

Hello,
Thank you for taking time to view our website. My name is Jeff Merrick and I have the privilege of being the pastor of Calvary Baptist Church.
Before coming to Calvary Baptist Church, the Lord allowed my family and me to start the Faith Baptist Church, in Eldon, Missouri which I pastored for 8 years. Next, my family and I moved to Washington State where we started the Berean Baptist Church, which I pastored for 9 years. We returned to Missouri, after being voted in as the pastor of Calvary Baptist Church, on October 29th, 2000.
My wife, Eileen, and I have four children as well as four grandchildren (and counting.)
I want to personally invite you to visit with us during any of our services. I promise that you will feel welcome the moment you enter the building. I could tell you how great our people are and what a wonderful church this is, but the only way to know that for yourself is to visit with us. We may or may not be what you are looking for. However, I can assure you of two things. First, you will hearing preaching and teaching out of God's Word. Secondly, you will have no doubt that the people of Calvary Baptist Church were glad you came.
Please feel free to browse our website. On it you will find our location, service times, statement of faith, audio sermons and other information. If you have any questions about our church please feel free to send us a note via email or call us. We will be glad to answer any questions you might have. You may email me directly by clicking here (Pastor), or the church secretary by using the contact page by clicking here (Info).
If you are moving to Whiteman Air Force Base and need help or information about the local area, please let us know. We will be happy to help in any way we can. When you arrive on base or in the area, please come by and visit us as my personal guest. You will find that we are only minutes from Sedalia and Warrensburg and that we are located just outside the "Knob Noster gate" of Whiteman Air Force Base.
Whether you are in the military or not, we look forward to seeing you soon!
Because of Christ!
Jeff Merrick, Pastor